BIRD, BOTANICAL AND PORTRAIT PAINTINGS IN GOUACHE, WATERCOLOUR, ACRYLIC, INK AND WASH, PENCIL AND PASTEL.
Marlborough Daisy Flower Faerie

Yellow admiral with Maori pendant

Stitchbirds with flowering five finger

On display at NZ Academy of Fine Arts members exhibition

'A Spring in your step'

3rd - 25th September at the NZAFA Galleries, Queens Wharf, Wellington

For information on more of my metalpoint drawings or paintings email me at: janet@janetemarshall.co.nz

or go to my Facebook page Janet Marshall Metalpoint Art
Just published, the hilarious tale, in poem form, of Sam, the Hat and the Dragon.
$25 plus P&P. Each book is fully illustrated and signed by me.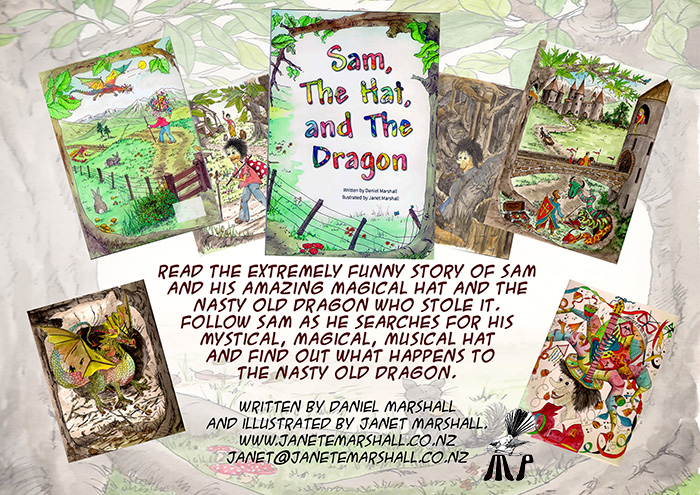 nbsp;

Two new videos of my work are available to watch on utube. JUST CLICK THE LINKS:

White Heron and Huia
'Hooded Girl' series 'EARTH, WATER, FIRE, AIR, SPIRIT' and 'METAMORPHOSIS'

New Botanical works in the Botanical Sales Gallery

New Metalpoint works in the Sales Gallery
Read about 'Artists Garden SL Botanicals' on my NEWS page
A large range of A5 frameable cards of many images on this site are now available. See cards